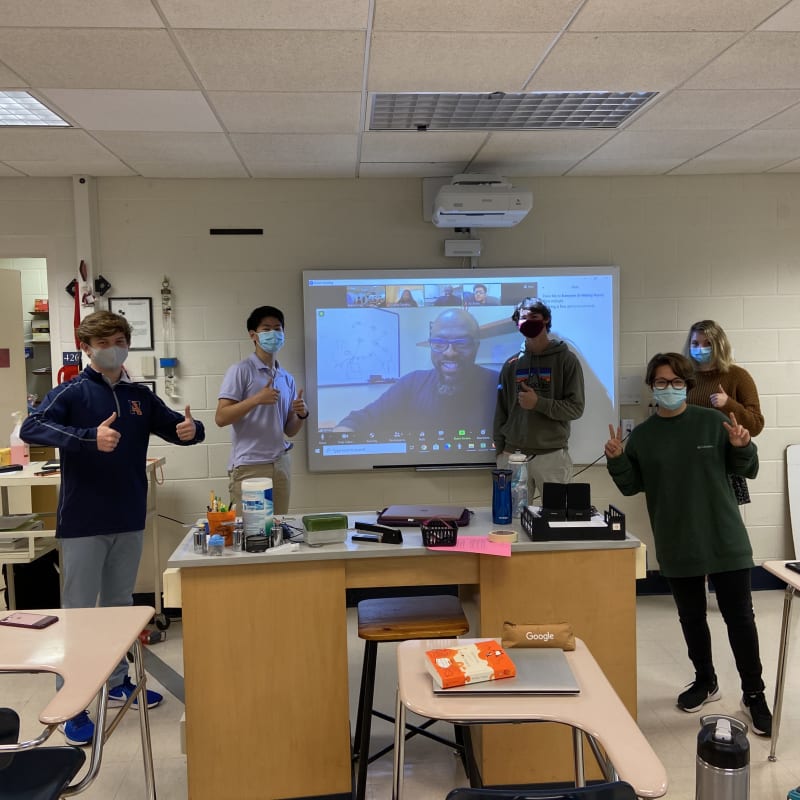 Len Shropshire, Norfolk Academy graduate of '89, joined the EDI Fellows, a second time in the EDI Fellows history, to talk about his adaptive designs for wounded veterans to ride motorcycles and the importance of user experience in motorcycles and today's world.
Len, engineer and entrepreneur, is a local business owner, who engineers and adapts motorcycles for riders who do not have full limb function. After showing a 2-min video of an adapted motorcycle, the EDI Fellows quickly picked up on the automated functions of support wheels, a shifter, and reverse capability, which normally a rider would perform.
Len went onto explain that controlling the adaptions is the toughest part of his work. A computer interface makes sure that the support wheels, for example, drop down under 4 mph and stay up at highway speeds. It is easy to purchase the different parts but getting them to all work together and when you want them to, is the tough part. Len focuses on the user experience and mentioned user experience is what drives engineering today in different ways than in the past. He showcased examples from his work and others such as iPhones and the Kinetic Driver, a high-end screwdriver.
In closing, Len offered a few tidbits of advice.
The first prototype is going to be the worst and ugliest and it is best to get it over with right away. Have the first prototype completed well in advance of the deadline.
Test out as many ideas as possible.
Sometimes you must do what works now and then slowly improve and work toward the bigger goal.
The EDI Fellows really enjoyed their conversation with Len and afterwards mentioned how they enjoyed hearing his insight on their projects and how he put their issues in perspective of similar problems encountered in his work.