The 2019 EDI Fellows traveled to Silicon Valley to speak with experts about engineering, design, and innovation.  Here is Sebastian Singh to describe our third day. 

Today we went to Big Basin Redwoods State Park. Although this was probably the least engineering-related activity that we have done thus far, it was both an amazing and sensational experience. Big Basin is California's oldest state park and is located in Santa Cruz County. The park contains a large watershed, formed by the seismic uplift of its rim, and the erosion. Although we did not hike all the way to the watershed, we did catch a glimpse of a waterfall on our second hike.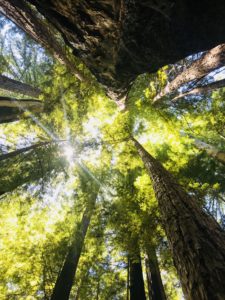 When we arrived at the park entrance, we were overwhelmed by the colossal size of the famous Redwoods. As we decided which trails we wanted to hike, some of us tossed around a LinkedIn frisbee, classified as "swag" by our LinkedIn connection from the previous day. Eventually, we chose to hike the Redwood Loop. After hiking a short distance, we came upon "the mother of the forest," which is the largest tree in the park. It measures 329 feet high and has a circumference of 70 feet at the ground.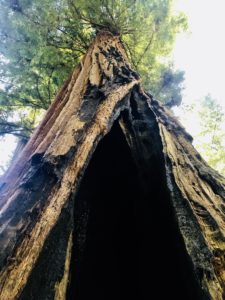 When we finished our quick hike through the Redwood loop, we ate the lunch which we had purchased at Target earlier that morning. It consisted of nutritious Cliff bars, baked cheese squares, bananas, and some other food items. After lunch we began our second hike on Sequoia Trail. We hiked through the Redwoods enjoying the pristine nature surrounding us. Then, we stopped in an area between the trees and took time to reflect on our trip and look toward our future in the EDI program and our roles. We all agreed that the trip had exceeded our expectations. As for looking toward the future, some of us predicted ourselves mainly involved in mentorship, while others were more inclined to finishing or starting projects. After our reflection we continued hiking until we finally reached the Sempervirens falls, meaning "always flourishing" (describing the trees).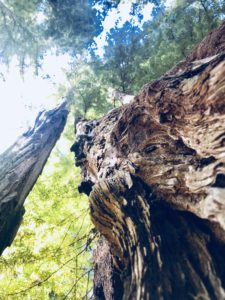 Finally we finished off the day by eating dinner and planning a hackathon for next year. After coming up with multiple ideas and prototyping, we decided we would make the design challenge creating a field day game. After we concluded this activity, we all went to bed and rested to get ready for the day ahead at Lawrence Berkeley National Lab.