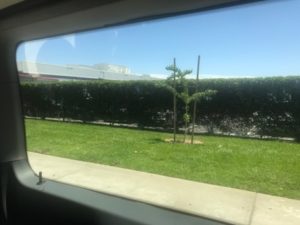 The 2019 EDI Fellows traveled to Silicon Valley to speak with experts about engineering, design, and innovation.  Here is Frances Harrington to describe our first day. 
This morning, the Engineering, Design, and Innovation fellows congregated at the airport in Norfolk to fly to Houston, then on to San Jose, CA for our senior fellows trip. When we finally arrived after a morning full of travel, we had our lunch at Chick-Fil-A, then we drove to Tesla for a factory tour. We were able to go through the factory where they make all the Tesla cars, and learn about the process from start to finish. We all particularly enjoyed being able to be so close to the production, the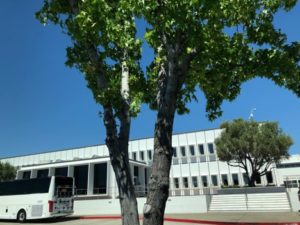 intricacies of the machines doing the work, and the layout of the factory itself with its natural light and silver and red color scheme. After we finished our tour, we checked in at our hotel, and Skyped with Mrs. Livingston about the Fellows portion of the college application, then went to the Panera across the street for dinner. After dinner, we walked to the CVS Pharmacy to get snacks for the van, then hung out by the pool, thereby ending Day One of our California trip!