Andrew Thetford (2019) reflects on the GHFs first day of home visits.
The first day of home visits was filled with new experiences and opportunities to learn and develop.  Although we did not have to meet until 8:15 AM, it was an early morning in my household with most of us waking a little before six.  For breakfast we had these delicious fried dough packets, black beans, fresh juice, and some of the best fruit I've ever had.  Once we reached Cristo Rey, we split up into our groups and began the home visits.
My group worked well together from the beginning and improved greatly as throughout the morning.  We had a really fluid team dynamic going especially with Kara speaking flawless Spanish coming fresh off her junior year in Spain.  Leaving Cristo Rey, we ran into a bit of a problem when our van got stuck in a ditch!  After a couple of minutes and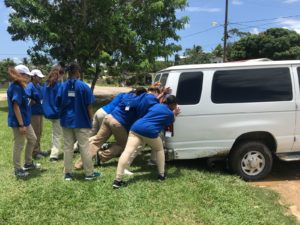 a lot of pushing, we were able to get going again back on the road to San Antonio.  For lunch my family had an amazing broth with a lot of meat and veggies mixed in.  After a quick nap time, we headed back to the center of town to grab some snacks before our next meeting.  We then listed to a speaker from the Ministry of Health in Belize (Miss Gema) who discussed more about the healthcare system in Belize.
Afterwards, we went to the Women's Co-Op of San Antonio.  There, we listened to an informative history lesson about cooking and pottery in Mayan times, then actually practiced this by cooking corn tortillas from scratch and making clay bowls.
We finished the day with insightful reflection and discussion about the events of the day.  Finally, we retired back to our home stays where Ray, James, Mr. Wetmore and I were treated to a delicious meal of sandwiches and this incredibly good fruit called soursop.  We all retired fairly early to prepare ourselves for the following day.