Monday, June 12, 2017:
To start off the day, we woke up early and ate breakfast with our host families before setting off for an activity-packed day. For the first half of the day, we again met at the community center for a tech session, led by Kaitlyn, one of our GPSA student leaders, on the tests we will be administering durning our house visits with the community health workers. We started by learning how take blood glucose levels using a finger prick. Our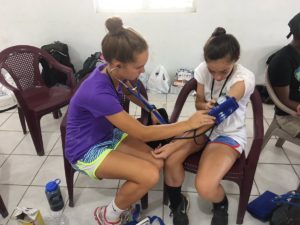 group split up into our three working groups, which we will be in during the house visits, and we each practiced being the doctor, assistant, and the patient as we all got our blood glucose tested. We then worked to perfect our skill at taking blood pressure, which some of us picked up more easily than others. Kaitlyn then talked to us about measuring pulse and respiration, temperature, and BMI. In order to be able to go to the houses and put our newly learned techniques into practice, we had to pass a test. We were each partnered up and took each other's blood pressure while Vanessa, our GPSA leader, examined us to make sure our procedure was correct. Thankfully, we all passed and we are excited to get to work in the communities tomorrow! After this morning session, we headed home for lunch, but on the way we were eager to stop at the bakery, which is only open a few times per week. Most of us bought either a freshly baked cinnamon roll, a slice of bread pudding, or a sweet bread that were all very delicious.  
– Gabi Diskin, GHF '18
For lunch with our host families, we had the national dish of Belize: rice and beans. It was delicious! After a post-lunch nap, we headed over to the local women's co-op. We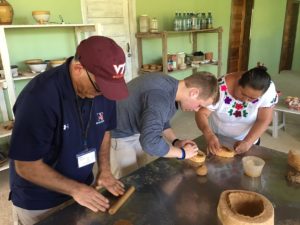 observed and participated in the making of corn tortillas which is a Mayan tradition. We mashed the corn and flattened the tortillas and then cooked them on a wood-fire stove. We ate them with coconut oil and salt which made them amazing! After the tasty snack we looked at the Mayan traditional pottery and the various paints they use which are specific to the type of clay used in the pottery. After learning we were able to take part in making pottery and using the wheel where I made a bowl. After our fun day of learning we settled under the gazebo to write our schedules for the school day about tooth brushing and hand washing. – Liz Heckard, GHF '18
After a long day of learning about and experiencing Belize's culture, the '20s and '18s, along with Mrs. Goodson, Mr. Runzo, a few GPSA leaders, and a couple local children, competed in a friendly game of soccer. Many laughs and falls later, we walked to our separate home stays to shower and prepare for dinner. In the evening, our host mom prepared delicious johnnycakes, which we ate with peanut butter, jelly, cheese, or beans. After we finished eating, we headed to our room to play with our host family's three-year-old son, Leo. His high energy level brought smiles to our faces, and we spent time laughing along to his antics. Later, we headed to the local restaurant, where we shared a plate of watermelon as we watched the NBA finals. A few of us also drifted to different tables to play a couple rounds of the card game, Hearts. A couple of nodding heads later, we all admitted that we were tired and headed off to our separate home stays to sleep.     – Julia Duarte, GHF '20