Written by Courtney Kilduff (GHF '20) to account for June 10-11, 2017:
After two flights and a long bus ride, the Global Health Fellows ('18s and '20s) arrived in San Ignacio, Belize! We took a relaxing afternoon to settle in and get to know our host families. The following day (Sunday, June 11) started off with a meeting with Global Public Service Academies (GPSA) volunteers; we listened to presentations about hand-washing and patient care, were informed of the week to come, and even learned some more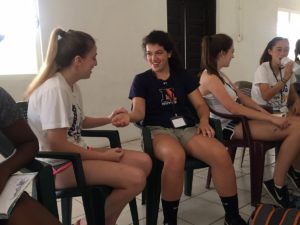 Spanish. Some things we learned included the 7 steps of patient care: preparing the station, greeting the patient, introducing yourself and your program, making sure the patient is in a relaxed position, explaining what you hope to do, following the protocol, and gaining consent before anything else. We role played interacting properly with patients. After eating lunch with our separate host families again (we eat all our meals in our homes), we took a bus to see the Mayan ruins at Xunantunich.
Written by Claire Cunningham, GHF '18, to recount afternoon of June 11, 2017:
After lunch with our host families we all met up to go to the Mayan ruins. After about an hour long bus ride with our bus driver and tour guide, José, we got on a ferry to get to the ruins. To get to the ruins we walked up a big hill and saw howler monkeys on the way. José told us many interesting stories about the Mayans including the fact that the did not call themselves the Maya. When Columbus arrived in Central America he asked the people what they called themselves. They replied "maya" which means "I do not understand." Therefore, Columbus wrote about the people who call themselves the Maya. We saw several different ancient buildings. The largest of which was the Castillo. The Castillo is a staggering 40 meters tall. It was hard to imagine how the Mayans were able to build such grand structures without modern tools. The view from the top was breathtaking. We had lots of fun exploring the ruins and the animals that now inhabit them such as monkeys, tarantulas, and iguanas. Visiting the ruins really gave us insight to the culture of the ancestors of many people in Belize. Afterwards we visited a market right outside of the ruins to buy souvenirs. We all returned to our host houses for dinner and went to the store afterwards to buy ice cream — which is without a doubt the best way to end a great day in the sun.