Written by Austin Sisino '19 to recount Monday, March 5, 2018:
On Sunday, March 4th, 2018, the Spanish Exchange embarked on our journey. While the 24 members were gleaming with smiles, Michael Wakeham and I left our teary-eyed mothers because we will be gone for 14 days (both of us still don't understand moms). The flight and layover in Atlanta went smoothly as everyone mentally prepared themselves for the long ride to Madrid. Even though it was an overnight flight, the most somebody slept was Molly Brown with 1 ½ hours and that's because she had a neck pillow and a sleep mask. After watching multiple movies such as "Daddy's Home 2" and "Murder on the Orient Express," and also attempting to find the perfect resting position on the airplane (turns out, that is non-existent) we finally landed. As if we have been traveling together as a group for years, getting out of baggage claim and customs was a piece of cake. Our ease of traveling should be credited to the two student leaders of the day, Emme the leader, and Brian our counter/pacesetter.
After taking a bus to Colegio Europeo de Madrid we were welcomed with awe from the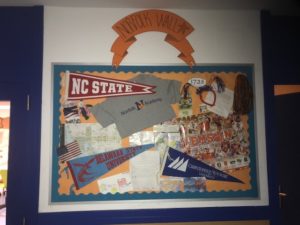 little kids. They waved and talked to us or just stood in terror as if we were aliens. The school itself is quite different layout-wise than NA with 4-5 stories, a Judo room, and outdoor basketball/soccer courts. The first thing we did as a group was create Pointillism art with Señora Ruth. She is still trying to figure out if Michael drew a cat or dog and who drew the best seagull – Zane, Chipper, or Neil. After our group had lunch that consisted of fish, meatballs, salad, and bread, we had some free time on our hands. With running on no sleep for more than 24 hours, the girls headed to the library for a nap, while all the boys played basketball for at least 2 hours. Kenneth was showing off just a tad by dunking on me and my fellow teammates. The Spanish students looking through the window have never seen anything like it.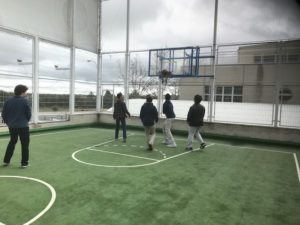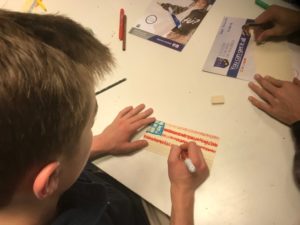 At 3:00 pm we all convened in the gym for fencing and judo lessons. All the students now know proper fencing techniques, chokeholds, armbars, and takedowns, so watch out! By now we were all beyond sleep-deprived and delusional, but we tried our best to stay awake so we can quickly overcome jetlag and get on this time zone. At 5:00 pm our students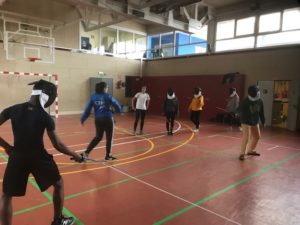 came to pick us up and take us home. I played soccer, video games, and talked with Nacho after school. However, all of us were not used to the fact that Spaniards have dinner around 9:00-10:00 pm. My meal was a traditional Spanish meal that consisted of chicken, potatoes, and a lot of bread. It was quite challenging to communicate to my host parents as they speak little English, but everyone likes a good challenge. If this is just a taste of what our time here in Madrid is going to be like, then this will be a trip of a lifetime for everyone.