We are pleased to announce that many Norfolk Academy student-athletes in the Class of 2019 have committed to participate in college varsity athletics. There are a total of 19 student-athletes who will compete in 9 different sports at the NCAA level. Our Bulldogs have navigated the recruiting process and have found the perfect college "fit" that blends academic, athletic and social needs for each particular student-athlete. A tremendous amount of hard work and dedication has paid off and they are excited to begin a new chapter in their athletic career.
Thank you to our student-athletes for representing our school and making us proud. We look forward to following your collegiate athletic career over the next four years.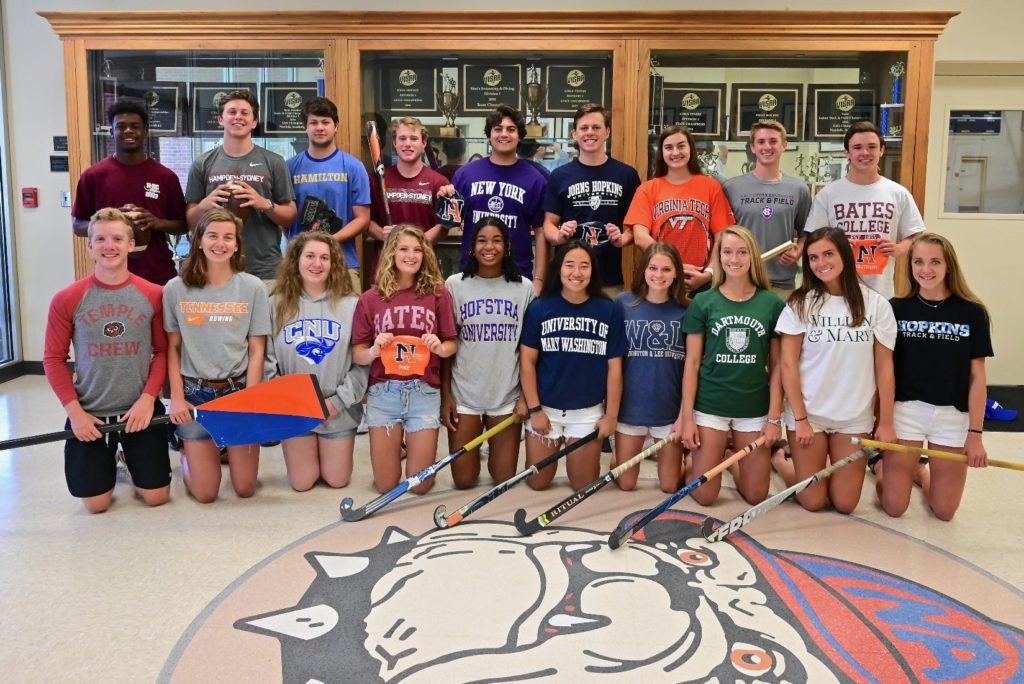 Norfolk Academy '19 Committed Student-Athletes by the Numbers:
19: Number of student-athletes who have committed to play in college.
12: Number of committed college athletes that played two or more sports for NA.
9: Number of different sports that NA students will play in college.
7: Number of student-athletes that will compete at the Division 1 level.
6: Number of "3- sport" student-athletes at Norfolk Academy committed to play a sport in college.
4: Number of college mascots that are birds (Hokies, Blue Jays, Eagles, Owls).
3: Number of colleges where more than 1 student-athlete is attending.
2: Number of student-athletes that will travel over 700 miles to college. (Bates)
Here is the complete list of the committed student-athletes and their destinations:
David Byler Football Hampden-Sydney College
Grace Cornbrooks Field Hockey College of William and Mary
Holly Cromwell Field Hockey Dartmouth College
Balthazar Denk Diving New York University
Maiya Foleck Sailing Christopher Newport University
Lily Hackbirth Tennis Virginia Tech
Brendan Kastner Baseball Hamilton College
Madison Kirkman Crew University of Tennessee
Sydney LeGuillow Field Hockey Hofstra University
Jabril Lewis Football Hampden-Sydney College
Cameron Lloyd Track College of the Holy Cross
Peyton McNider Crew Temple University
Emme Pike Swimming Bates College
Callie Poole Field Hockey University of Mary Washington
Landon Porter Baseball Hampden-Sydney College
Spencer Ryan Swimming Johns Hopkins University
Emma Somers Track Johns Hopkins University
Paul Southern Swimming Bates College
Peyton Tysinger Field Hockey Washington and Lee University
Go 'Dogs!
Coach Monninger
Norfolk Academy's College Counseling Coordinator for Student Athletes