We've been in Siracusa for the past two days, and tonight we've traveled to our hotel near the base of Mount Etna. Here are a few pics from the past few days, and we'll give a more substantial update on our plans later this evening (reliable wifi definitely helps the blog posts coming).

Here we are a few days ago at Hera's temple at Selinunte. The image is an interactive 360° pic, so you can see the size of the temple- it's massive.
Most of our days include a stop for either gelato or a granita. Granita is like a slushy. They usually come in either limone (lemon) or arancia (orange). Gelato comes in many more flavors, and if you're looking for a real treat, most larger gelato stores will serve gelato in a split brioche bun.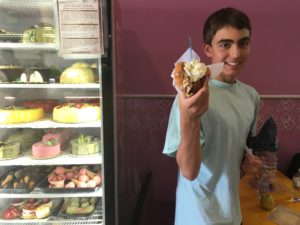 We've also spent some time swimming and exploring the small beach near our hotel in Siracusa. We were staying in Ortigia, which is the oldest part of the city. Siracusa was founded by the Greeks in the 700s BC, but like much of Sicily it has seen many different groups invade and conquer. As a result, the city shows different building styles and fortifications depending on who controlled it and who was attacking. The rocks on the beach where we swam gave a great view of the city and a place where the students found lots of sea glass.
Ortigia also has a daily market where you can buy all sorts of fresh produce, spices, fish and more. Sicily's produce is delicious and in expensive. Peaches, apricots and a yellow plum are at all the markets. Students have bought bags of them and shared them on the bus rides.
And speaking of bus rides, they've become one of the best places to catch a few winks amidst an otherwise busy schedule.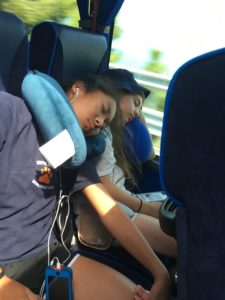 Until later…