Today we headed to Mt. Etna. Everyone here calls it "The Mountain" or a Sicilian word that translates as "Majesty." The origin of the name comes from an ancient Phoenecian word meaning "smoking chimney" and fits with the ever-present plume of smoke present at the mountain's highest craters. We were guided by a volcanologist named Salvo who also is referred to as Salvo-pedia because he knows so much about the mountain. He's been eye-witness to almost every eruption of Etna in the last 30 years, and that means he has seen hundreds of eruptions.
Etna is about 800 square miles and is the largest active volcano in Europe. It is so tall that the ecosystems change several times as you ascend the slopes. The lower slopes look like the rest of this part of Sicily, but heading up takes you through coniferous forests, then there is a band of deciduous forests dominated by birch trees. On the higher slopes the vegetation is interrupted in places by recent eruptions' lava flows that look more like a lunar landscape.  The highest parts are volcanic rock with no vegetation.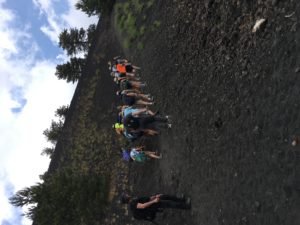 In order to monitor the mountain, the Italian government has hundreds of sensors measuring all sorts of things. The system reports data to stations in Catania in order to disseminate the information.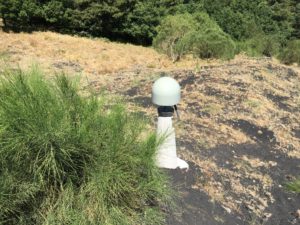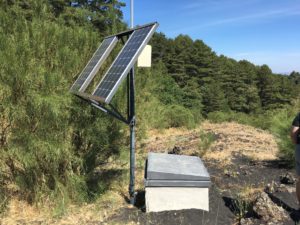 In addition to monitoring the volcano to protect nearby towns, the sensors also provide warning to the air traffic controllers to keep planes from flying through volcanic ash sent into the atmosphere. The engines of a plane can re-liquify volcanic ash and rocks only to have them solidify before completely leaving the engine. Unsurprisingly, pilots don't like having rocks in their engines.
After an eruption, the volcanic flows take centuries to break down. It takes nearly 1000 years for the a lava flow to return to thick forest. The first plant to sprout is a small flowering bush called Broom. Its roots are strong enough to break apart the volcanic rock, paving the the way for other plants.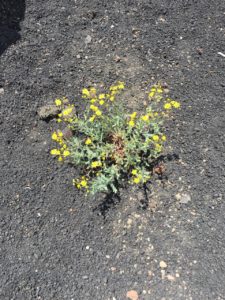 A plant the locals call "Mother-in-law's pillow" is another early sprouter. It has soft looking green foliage that masks viscous thorns underneath. None of the students understood why Salvo giggled when he translated the name into English.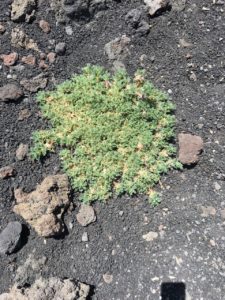 After a day of hiking around the mountain, the group was exhausted. We went down to the coast and saw the location of the eruption that  brought the mountain above sea level hundreds of thousand of years ago. Then we went around the corner for granita and brioche. Tomorrow we head for Messina to catch a ferry to the mainland.