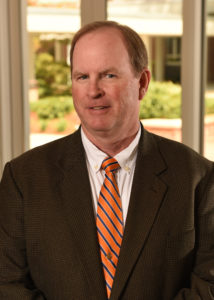 Neil Duffy's passion for lacrosse began when he was just 15 years old and received his first stick from Mr. Don Holmes at Alfred G. Berner High School in Massapequa, New York. He played throughout high school, and actually began his coaching career during his senior year working with a local youth team.
Neil attended the U.S. Naval Academy, where he served as co-captain of the Academy's lacrosse team in his senior year and was awarded the VADM E.C. Waller Lacrosse Award; he also played in the North-South College All-Star game. Upon graduation, he came to Norfolk and served as a surface warfare officer onboard two ships stationed here.
After leaving the Navy after 5 years of service, he found his passion for service and mentoring as a teacher. He has taught at Norfolk Academy for 25 years, where he is an exemplar of the school's teacher-coach model. He currently serves as an Upper School physics teacher, dean of the senior class, and head coach of Girls' Varsity Basketball and assistant Boys Varsity Lacrosse. He has received numerous teaching and coaching awards during his thirty year career. What makes Coach most happy and proud, however, is the success that his former students, players, and advisees have had over the decades, particularly the scores of college athletes, dozens of whom have captained their teams. He is also extremely proud of all of his students who continue to give back in the form of teaching, coaching, officiating, and administering to teams and leagues.