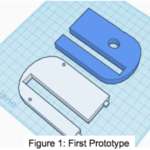 In late March 2018, Charlie, AJ, Keon, and I began the first week of the Table Saw Project. We met with Mr. Barton to design a 3D printed table saw guard with a larger rectangular slot so that he could place his largest saw blade in it, because the current slot is too small. The DADO Blade, the largest saw blade is used to cut elegant notches and etches into pieces of wood.
Because the 3D printer is too small, we used TinkerCad, a 3D printing software, to design two halves, which will be secured with glue and an interlocking mechanism. We finished the design in TinkerCad in Week 2, and in Week 3 and 4 we printed the first prototype (Figure 1). For reference, each half can fit inside the palm of your hand.        
In Week 5, we had planned to print the final guard within three weeks, but needed to wait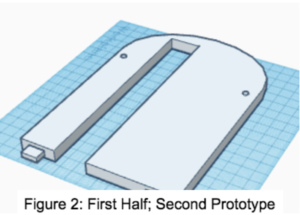 for more 3D filament to arrive. During this time, our group presented the project to the Senior and Junior cohorts and discussed ideas towards improving the prototype. By end of the Spring semester, the filament still hadn't arrived, so we made more progress in the 2018 Fall Semester. 
In early September, the group split, and Keon and Charlie began to work on a different project. AJ and I moved on to Week 6 and decided to print a full-size half of the next prototype (Figure 2). The extended, rectangular pieces for the interlocking mechanism did not print as part of the rest of the guard, and instead printed as smaller bits. Therefore, I changed the TinkerCad design and began to print the other half (Figure 3), in late September, Week 7.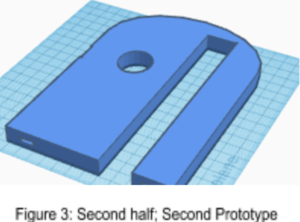 AJ and I hope to print the first half of the second prototype by early October, Week 8 and 9, and we want to print the final by late October, Week 12.