Yesterday we touched down in Rome, had one more layover, and boarded our final flight to Palermo. Everyone was excited to get out of an airplane seat and get moving.
We had a chance to take in some of the scenery as we drove from Palermo to Erice. The road we traveled was close to the coast, and just inland from us the land rose steeply up into the mountains.  The drive up to Erice took us up a steep winding road, that you can see in a time-lapse video
Erice is an ancient mountain-top city dating back about 3000 years. The Phoenicians, Greeks, Romans, Arabs, and Normans all controlled or heavily influenced the city at some point in its history. We hiked through the city to find the temple dedicated to Venus and to see the salt pans down on the coast below.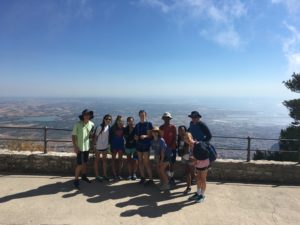 By the time we reached our hotel in Trapani, the group was ready for a quick dip in the Tyrrhenian Sea, dinner and bed.