Today we visited Mt. Etna and spent the day walking some of its craters, learning about its lava formations and listening to the vast wealth of knowledge our guide, Eddie, had to offer. Eddie (short for Eduardo) is from nearby Taormina and has studied Mt. Etna for over fifteen years. 
From a geological perspective, Etna is a young volcano- about 500,000 years old. It formed in what used to be a bay on the eastern coast of the island. Now Mt. Etna is over ten thousand feet tall. Eddie described for us the difference between types of lava flows versus explosions of gas and ash. We hiked though the craters from a series of eruptions in 1865 and saw how lava flows from fissures in the mountain create channels down the slopes.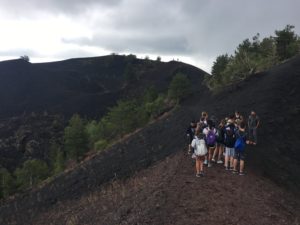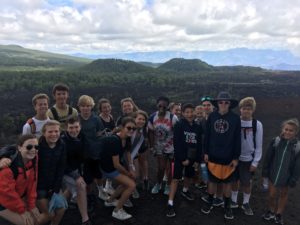 Later we descended into a lava tube formed as the exterior of a lava flow hardens as it reacts with oxygen and cool ambient temperatures. Because volcanic rock is an excellent insulator, the crust of the tube keeps the rest of the lava from cooling and the flow pushes downhill. Eventually, the flow ends, and the remaining lava cools and can form layers of thin rock visible in the tube.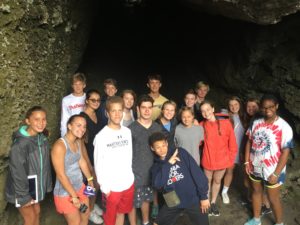 After lunch we drove down to the coast and saw the area where Etna first began rising out of the sea and then had granita with brioche. At that point, we had a bus full of tired but happy students.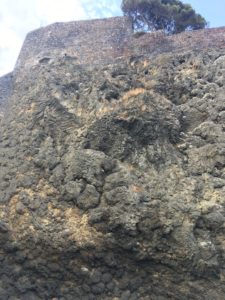 Swimming in the Ionian Sea
On Thursday while we were in Syracuse, we went swimming in the Ionian Sea. We tried to go swimming in the place other students had in years past, but it was closed. We continued walking to another beach about 1/5 mile from our hotel, Hotel Gutkowski. When we reached the pebbly beach, it was very crowded but everyone was anxious to get into the clear, sparkling, blue water. It was filled with many huge rocks, which cut many of us when we climbed on them. Many of us were afraid of fuzzy crabs which crawled in the holes of the rocks, and others feared the plants growing in the water. Much of our time was spent searching for sea glass as well as learning how to skip rocks on the water/onto people's heads. Overall, we had a great experience in the Ionian Sea and loved having this opportunity!! – Olivia, Abby, Eliza, and Cate
The Open Air Market
The market at Syracuse was a sight to behold—we could walk down the middle and browse many types of food including fruit, vegetables, cheeses, fish, meat, and cookies. The atmosphere of the market is something one cannot find in America. Salesmen call out their wares, and costumers barter with them for the price they believe is right. Fishermen are cutting fish open, women are making juices, and bakers are letting people sample their products. The market at Syracuse was a fascinating place to spend time.
Nicholas