One of the goals of the Odyssey trip is to push students' comfort zones. For this year's group, we've bumped into the edge of our comfort zones with food several times. Some of our group isn't quite as comfortable with seafood, some with new vegetables, and some with foods that aren't immediately recognized. But Sicily offers a wide variety of new foods for the student, and we're trying to encourage as much exploration of Sicilian cuisine as possible.
This morning at breakfast, for example, there was fresh ricotta, which is heavenly. Only two takers. Tonight we had cassata for dessert. Cassata is a cake made with layers of traditional cake separated by layers of sweet ricotta cheese. We didn't tell anyone what was in the middle, and everyone loved it. Sometimes it's best just to jump right in and ask questions later.
After breakfast we walked though the market that is just around the corner from our hotel. Vendors shout out their wares, the fish mongers tout the day's catch, and the produce stands offer you samples to lure you.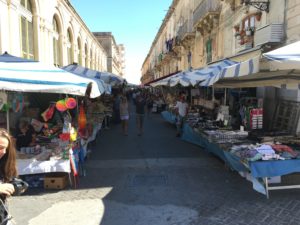 We shared fresh cherries later in the day to wide approval. We thought we were buying pistachios from Bronte (a local specialty), but it turns out the market vendor duped us and gave us normal ones (our kind driver and guide, Salvatore, pointed out our folly to help tomorrow's purchases), but most everyone liked them anyway. Some students tried pieces of a mini cantaloupe. The truly brave tried pieces of cedro. Cedro is a citrus fruit that looks like a large lemon, but the fleshy part is much smaller than expected and instead most of its interior looks like the pith. However, you eat the pith with just a bit of the flesh.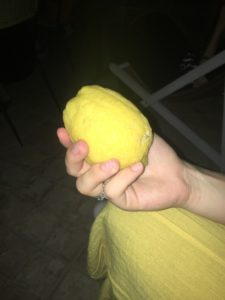 We also stopped by Ragno D'Oro (The Golden Spider), which is the best gelateria in Sicily. It's home of dozens of flavors including the famous setti veli (seven veils) seven-layer gelato flavor. Many tried their gelato on a brioche roll, which was a much easier sell than tonight's caponata (a mixture of cooked eggplant, peppers, and celery).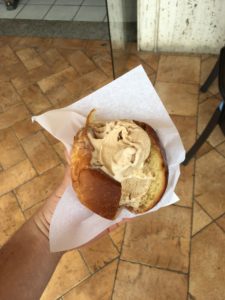 Look for updates soon about the ancient history portion of the trip. Our days are so full of adventure, finding time to have the students author posts is as much of a challenge as the planned challenges at the sites. Ciao.