Our day started with breakfast at our hotel, La Gancia, then we packed our things and went on our bus to Segesta. At Segesta we visited the unfinished temple and the theater where people like us sat thousands of years before. After our visit, we drove to a quarry that constructed columns to work and had sandwiches. Then, we drove to Selinunte to visit another temple. We went to a temple which was destroyed (now partially reconstructed) by the Carthaginians and took some pictures. Next, we went next to ruins of temples, and climbed over the destroyed columns and stone and begged Mrs. Pollio to let us climb back to the start once we finished the first time.
Lastly, we drove about an hour to our current hotel, Sole Mediterraneo, and swam in the STUNNING Mediterranean Sea. After we swam, we had a three course meal of pasta, swordfish, and lemon sorbet. It is currently 10:37 (4:37 for you all) and we got back from dinner about 15 minutes ago…. we will probably go to bed in about an hour. goodnight!!
-Kate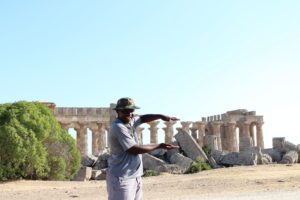 Photo: Anaiya Roberts

Photo: Kate Ruffin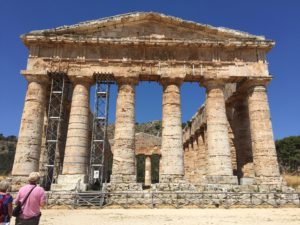 Photo: Kate Ruffin
Here's a 360 degree look at Segesta's amphitheater.